Debut Album Released September 10th 2019
RD is the artist name of René Diekstra, who next to being a guitarplayer and composer works as a computer programmer. RD became a musician after seeing shows from Cuby + Blizzards & Jan Akkerman. After 15 years of mainly working in IT it became clear that he needed to create his own musical project; Sum Of Its Parts. The project is the sum of all his musical influences. On the album you'll hear influences of Wayne Johnson, Lee Ritenour, Jan Akkerman, Andy Timmons, John Norum, Steve Lukather, Ritchie Blackmore and many others. His style of playing is often compared by others to the style of Joe Satriani.
The oldest song on the album was written over 15 years ago. As the years went by more songs came and finally René felt it was time to create a debut-album. The creativity of Coen, Frans and Niels and the atmosphere during the recording sessions made the album sound like a band-album. René wanted to record in the old-fashioned way, playing all the instruments and recording it simultaneously.
The album consists of 10 instrumental tracks, with diverse influences in which the guitar has a prominent place. A joy to listen!
The LP will be delivered in a tip on sleeve gatefold.
SIDE A
1. From Scratch 05:31
2. She's Not Here 05:56
3. Day Off 04:58
4. Merlin's Groove 05:02
SIDE B
5. New Beginnings 05:21
6. Portrait of You 05:13
7. Ballad For Ruan 06:25
8. Be Mine 03:52
René Diekstra: Lead / Rhythm Guitars (1-8)
Coen Molenaar: Keys (1-8)
Frans Vollink: Bass (1-8)
Niels Voskuil: Drums (1-8)
Vita van der Lijke: Rhythm Guitars (2 & 8)
Track 4,5,6,8 recorded on 20 & 21 January 2018
Track 1,2,3,7 recorded on 25 & 26 June 2018
€29,99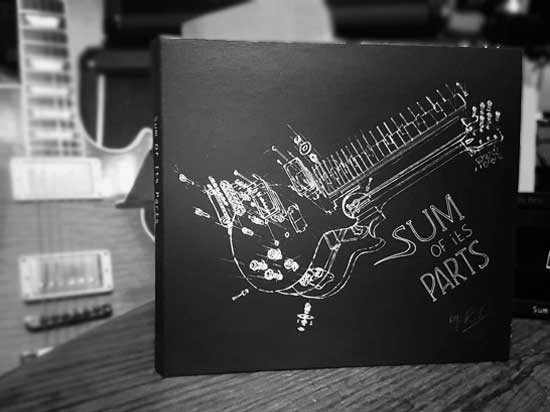 The CD will be delivered in a 6pp digipak with a poster-booklet.
01. From Scratch 05:31
02. Be Mine 03:52
03. Day Off 04:58
04. Don't Touch 03:40
05. Merlin's Groove 05:02
06. Ballad for Ruan 06:25
07. New Beginnings 05:21
08. Portrait of You 05:13
09. She's Not Here 05:56
10. What a Night 05:16
René Diekstra: Lead / Rhythm Guitars (1-10)
Coen Molenaar: Keys (1-10)
Frans Vollink: Bass (1-10)
Niels Voskuil: Drums (1-10)
Vita van der Lijke: Rhythm Guitars (2,4,9,10)
Track 2,5,7,8,10 recorded on 20 & 21 January 2018
Track 1,3,4,6,9 recorded on 25 & 26 June 2018
€18,99